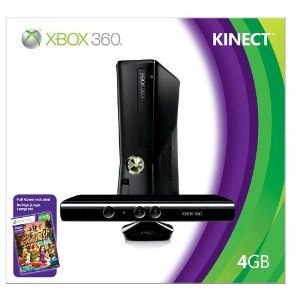 This is a HOT item in our house! If you haven't tried it you will are missing out. That Kinect is the bomb! This is definitely a great buy this holiday season. Most store will have it for
$199.
If you don't want to wait until Black Friday, you can purchase the
Xbox 360 4GB Console with Kinect
from Best Buy right now for $299 shipped AND you will get a $100 Gift Card! Simply search for the item code
9999169900050038
on the
Best Buy website
.
If you decide to purchase your Xbox 350 4GB with Kinect from Best Buy let me know I have some $25 off coupons to giveaway if you purchase JUST DANCE 3 with it!
Black Friday Deals:
BEST Deal:
Best Buy XBo 360 250GB Console Bunder includes wireless controller, wired headset, Fable III game Halo, Reach game and 3 months XBox Live Gold Membership and Kinect (including Kinect Adventure! game, plus Gunstringer and Fruit Ninja Games) $298.99 –
The reason this is the best deal is because this is on the same 250GB Console.
I would get there super early for this- they are only guaranteeing a minimum of 6 Kinects per store.
BETTER Deal: Walmart Xbox 360 4GB Console with Kinect (including Kinect Adventures! game, wireless controller, composite AV cable and 3-month XBox LIVE! Gold Membership) $199.56 with $50 Walmart gift card – This deal begins at 10 p.m. and I would get there early to get in line.
GOOD Deal: Target Xbox 360 4GB Console $139.99 and Kinect $99.99 (includes WIPEOUT 2 game and Kinect Adventures! game plus The Gunslinger and Fruit Ninja)- Total Combined $239.98- Target opens at Midnight